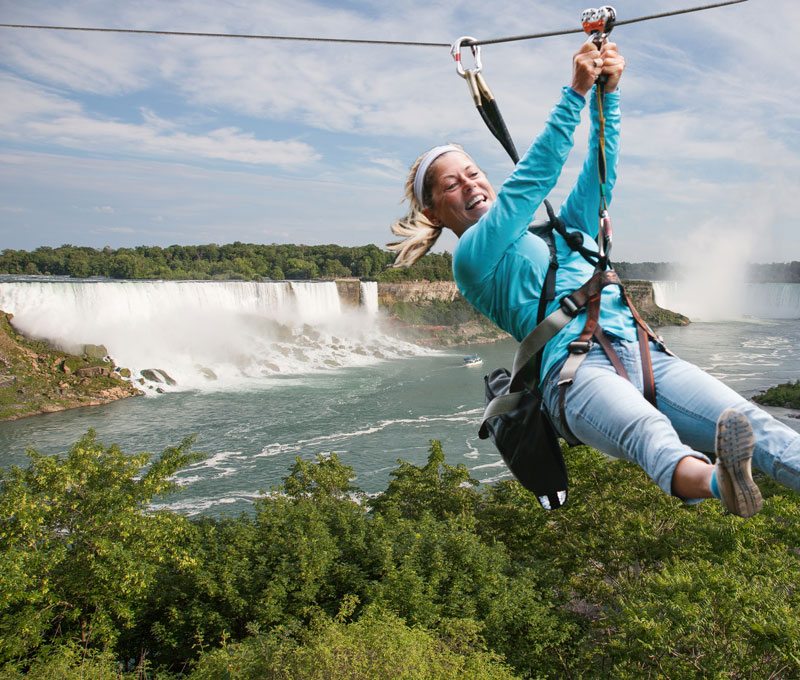 Source: cliftonhill.com
We watched and waited, gazing up in hope of seeing someone—anyone come down the zip-line.
My Beloved and I squeezed in an overnight mini-holiday to Niagara Falls, this summer. It was on short notice—an invitation from my sister and brother-in-law, who live an hour or so away from there.
The zip-lines sat serene and still. We hadn't seen them in operation before. It was early evening and, as we peered up at the launch platform, we could see staff inside the building, but nothing seemed to be happening.
It was late in the day and I suggested that the staff might be preparing to shut things down. And yet, people continued walking up the ramp towards the launch area, and others hung around.
The lines disappeared at some points behind or between trees, and the landing platform appeared small and distant. We four discussed how scary it might be to come zipping down those lines suspended in a harness.
Source: dailymail.co.uk
We were about to move on, when we saw several people getting hitched up and receiving instruction. And then they were launched. Down they came—two of them were only about twelve years old—screaming and whooping . . . and laughing! Spectators roared and greeted them with shouts.
The next forty-five minutes saw young folk and adults take the trip. "That looks like fun. I'd like to do that," smiled my sister. "Yeah, but it's getting kind'uv late, now; they'll likely be closing down soon." (That comment betrayed my reluctance.)
Was I too scared to try? Probably, but not half as much, now that I'd seen that first batch of kids come down the line all smiles and laughter.
And I figure that that's what happened. It took those plucky youngsters to show scores of gazing gapers that it's ok. You can trust those cables to take your weight and trust the harness to hold you securely for those twenty seconds that you zip down the line.
You also have to trust those who strap you in and instruct you before you embark on your zip-line journey. No doubt the participants were told that a staff member would help them the moment they reach the terminus.
That's exactly what we witnessed after we'd sauntered along to the

area overlooking the landing stage. Someone was there to welcome and assist each exhilarated zip-liner upon reaching 'home base.'
I recall the old story of how the Niagara Falls high-wire legend of a century ago, Blondin, wheeled a barrow along a cable strung across the Falls. He asked a man standing among the gaping crowd whether he believed he could safely wheel him across in the barrow.
The fellow replied that he believed he could. Blondin said, "OK—then hop in." Now that was a different story. Believing that Blondin could do it wasn't the same as entrusting his life to him and getting in the barrow and letting him prove it.
Business on the zip-line in our trip to the Falls picked up dramatically once people in the crowd saw those youngsters take the plunge and enjoy themselves and make it safely to the end of the line.
May we as Christ-followers inspire others through our trust in Jesus Christ as our Lord and Saviour and through our evident and genuine joy, as we journey along life's way.
God help us also to teach them well what it means to be a Christian, as they embark on their journey. It may be that we'll have the privilege to be on hand when our Lord Jesus welcomes them into their eternal home at the end of their earthly line.
Ref: John 14:1-6 (NIV2011)
1
"Do not let your hearts be troubled.
You believe
in God
;
believe also in me.
2
My Father's house has many rooms; if that were not so, would I have told you that I am going there
to prepare a place for you?
3
And if I go and prepare a place for you, I will come back
and take you to be with me that you also may be where I am.
4
You know the way to the place where I am going."
5
Thomas said to him, "Lord, we don't know where you are going, so how can we know the way?"
6

Jesus answered,

"I am

the way

and the truth

and the life.

No one comes to the Father except through me.




~ Raise Your Gaze ... Mindful Musings of a Grateful Heart